How to commission
FFuthoni via E-mail
This option is much more customizable and flexible.
Payment will be managed using PayPal invoice(s)
---
1.
E-mail me at [email protected]
with "FFuthComms" as the subject or Click Here!Please send me the following:
Image reference(s)

Background color

Format size (e.g. Portrait, Square, 4:5, A4)

Other important details (e.g. adding a hat, eyeglasses, accessories, etc)
P.S. The reference can be anything such as a photograph,
a rough sketch, a drawing, a fictional character, or even just
an abstract description.
E-mail Example: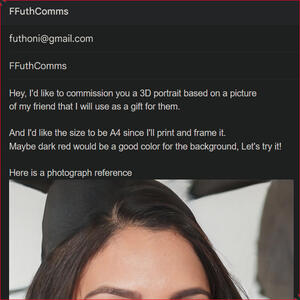 ---
2.
I will then reply to your E-mail
to confirm about (but not limited to):
Final size

Delivery time

Final price estimation

Optional additions

Other details that may come up later
Reply Example: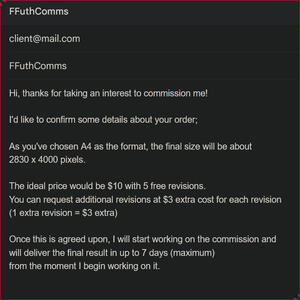 ---
3.
Once agreed upon, I will start working on the commission, and as time goes I will send you some WIP (Work-In-Progress) screenshots
which you can request for some adjustments.Once I finished the commission,
I will send a low-resolution,
watermarked preview of
the final result for you to approve.You can request up to 5 changes (revisions) for free.One extra revision will cost $3 extra
to be added to the original price and so on.
Preview Example: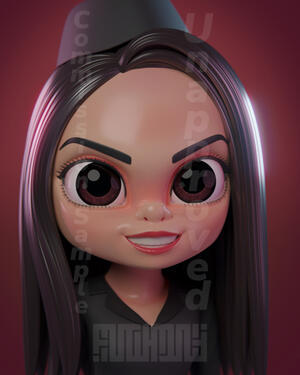 ---
4.
If the preview is approved
(with or without revision),
I will send a PayPal invoice to your E-mail.Which then you can pay in a variety of ways.And of course, you can leave me a tip! ;)
Invoice Example: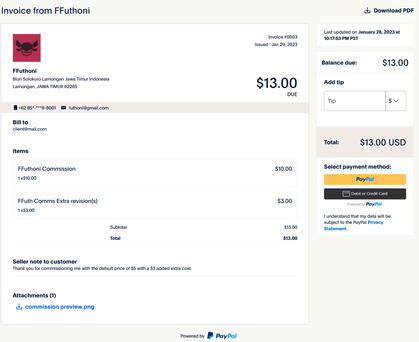 ---
5.
When the payment is received,
I will send you the full-resolution,
non-watermarked, original version
of the final result.And then, the order is finished!
_____
P.S.
The default usage permission from this commission is for personal use only.
Commercial use permission can be requested at an additional price of $35.
Final Result Example: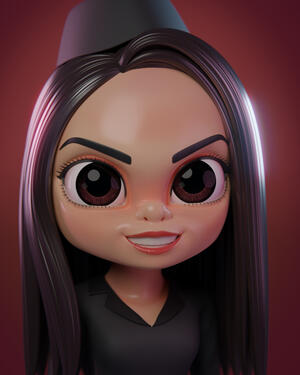 Interested? Hit me up!